8:25am – 2:45pm (M, T, TH, F)
8:25am – 12:55pm (W)
Dismissal changes are accepted until 2:00 PM (M, T, TH, F) and 12:00 PM (W)
EARLY CHECK-OUTS (for any reason) must be completed by 2:10 PM (M,T, TH, F) and 12:10 PM (W).
Your respect for our dismissal policy helps maintain safety and security as we complete attendance/dismissal change/check-out reports accurately before students prepare for and move to their dismissal stations, It is often very difficult to locate students or get them ready to leave early during the last minutes prior to dismissal bell. Teachers and students are completing lessons, packing up, or on the move to dismissal stations. 
Thank you for your understanding and compliance as we work together for all students' scholastic success!
FortifyFL is a website and app developed at the direction of the Florida Legislature. Any student, educator, parent or member of the public can report school safety concerns directly to law enforcement and school administrators anonymously and easily through the FortifyFL app or getfortifyfl.com.
This is just a reminder that anyone (parent, guardian, friend, neighbor, aunt, uncle) must have school access to attend an event at Durbin Creek, have lunch with a student and/or attend an awards assembly. If you have not already done so, please complete the School Access Form. The process for approval may take up to 4 weeks, so please fill out the application sooner than later for any guests that would like to have school access. Once the application is approved, school access will be valid for three years.
Please make sure that you are signed up for our school messenger communications.
InfoCenter is both a website and an app that you can download on your smartphone. You can access InfoCenter by visiting https://infocenter.schoolmessenger.com.
If you simply want to receive text messages from your child's school or from the District please do the following :
From your mobile device, Text "Yes" to 67587. You should then receive a response text message stating, "You're registered 4 SchoolMessenger notifications". It's as simple as that!
2020-2021 Instructional Materials Adoption for English Language Arts (ELA)
St. Johns County School District curriculum department representatives and adoption committee members have completed the review process for the Instructional Materials Adoption for English Language Arts (ELA). On January 26, 2021, the School Board will conduct a public hearing to receive comment from the community regarding the final list of recommendations for instructional resources for this adoption. The public is invited to attend this hearing. Committees composed of teachers, district content experts, parents and community members compiled the lists. The hearing will be held at 9:00 a.m. in the auditorium of the District Administrative Building located at 40 Orange Street in St. Augustine.
View the final recommended selections and links to the selections. If you would like access to available printed materials or require assistance reviewing the online resources, please call the Instructional Resources and Media Services office at 904.547.3947. Materials are available for review from 8:30 a.m. - 4:30 p.m. when district offices are open.
Board action on the final recommendations for English Language Arts instructional materials is expected to take place at the School Board meeting in February.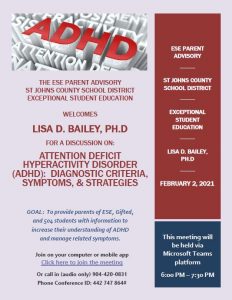 On February 2nd from 6:00pm to 7:30pm, the ESE Parent Advisory will welcome Lisa D. Bailey, Ph.D., for a virtual discussion titled "Attention Deficit Hyperactivity Disorder (ADHD): Diagnostic Criteria, Symptoms & Strategies." Join the meeting online via Microsoft Teams or join via phone by dialing 1-904-420-0831 and then entering the conference ID: 442 747 864#
We are proud of our "A" status, Golden School Award, Character Counts! Coalition Member, and 5 Star School Award honoring our commitment to the education of our students.
Please Remember Durbin Creek Elementary is a
Peanut Allergy Awareness School