SCHOOL HOURS
M-T-TH-F

8:25AM - 2:45PM
SCHOOL HOURS
WEDNESDAY

8:25AM - 1:45PM
OFFICE HOURS
MONDAY - FRIDAY

7:30AM - 3:30PM



August 3rd @ 5:30pm – Meet and Greet (POSTPONED)

This will be an outside event held in our pavilion area here at school. We hope to capture some of our new families on this evening so please spread the word to new neighbors. Our wonderful PTO will be joining us as well.
*Please note classroom teachers will not be on site for this event.
August 10th – PreK and Kindergarten Class Placement Emails sent out to families
August 11th – Grades 1 – 5 Class Placement Emails sent out to families
August 12th @ 8:30am – 11:00am – PreK and Kindergarten Orientation
This will be a staggered event so please be on the lookout on August 10th for specific details.
August 13th – Grades 1 – 5 Orientation
8:30am – 10:00am – Families with the last names A-L
10:15am – 11:45am – Families with the last names M-Z
Our teachers and staff are very excited to kick off a new year with you all!
Dismissal changes are accepted until 2:00 PM (M, T, TH, F) and 1:00 PM (W)
EARLY CHECK-OUTS (for any reason) must be completed by 2:10 PM (M,T, TH, F) and 1:10 PM (W).
Your respect for our dismissal policy helps maintain safety and security as we complete attendance/dismissal change/check-out reports accurately before students prepare for and move to their dismissal stations, It is often very difficult to locate students or get them ready to leave early during the last minutes prior to dismissal bell. Teachers and students are completing lessons, packing up, or on the move to dismissal stations. 
Thank you for your understanding and compliance as we work together for all students' scholastic success!
VPK is full for the 2021 – 2022 school year!
Student Planners for the 2021 – 2022 school year are available for $10 through SchoolPay
Year-at-a-Glance Pacing Guide
The link above, provides information for parents/guardians to understand what teachers are teaching, along with additional resources, tutorials and videos
2021-2022 Student Supply Lists
School District News & Information
Please make sure that you are signed up for our school messenger communications.
InfoCenter is both a website and an app that you can download on your smartphone. You can access InfoCenter by visiting https://infocenter.schoolmessenger.com.
If you simply want to receive text messages from your child's school or from the District please do the following :
From your mobile device, Text "Yes" to 67587. You should then receive a response text message stating, "You're registered 4 SchoolMessenger notifications". It's as simple as that!
FortifyFL is a website and app developed at the direction of the Florida Legislature. Any student, educator, parent or member of the public can report school safety concerns directly to law enforcement and school administrators anonymously and easily through the FortifyFL app or getfortifyfl.com.
This is just a reminder that anyone (parent, guardian, friend, neighbor, aunt, uncle) must have school access to attend an event at Durbin Creek, have lunch with a student and/or attend an awards assembly. If you have not already done so, please complete the School Access Form. The process for approval may take up to 4 weeks, so please fill out the application sooner than later for any guests that would like to have school access. Once the application is approved, school access will be valid for three years.
B.E.S.T. Standards Presentation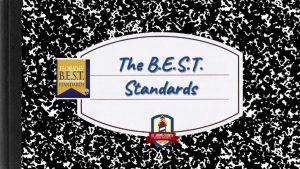 The purpose of the video is to provide parents and community members with information about the new B.E.S.T. Standards for English Language Arts and math. The video also explains the timeline for the implementation of the new standards.
View the B.E.S.T. Standards Presentation
We are proud of our "A" status, Golden School Award, Character Counts! Coalition Member, and 5 Star School Award honoring our commitment to the education of our students.
Please Remember Durbin Creek Elementary is a
Peanut Allergy Awareness School