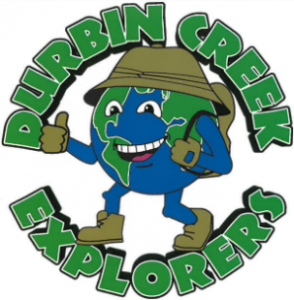 2023-2024 New Student Registration
Now Open!
School Registration Information
All registrations for Durbin Creek Elementary are done online, via the Durbin Creek Elementary Website. Please have ALL documents together BEFORE you begin the registration process. Per SJCSD policy, all documents must be provided at the time of registration.
DOCUMENT REQUIREMENTS for enrollment can be found at: https://www.stjohns.k12.fl.us/student/enrollment/

Kindergarten Eligibility: Children must be 5 years old on or before September 1st.

1st Grade Eligibility: Child must be 6 years old on or before September 1st and have documentation of successful completion of kindergarten.
SCHOOL ZONE LOCATOR to verify your Saint Johns County School District (SJCSD) zoned school can be found at:
https://www.gis.sjcfl.us/SchoolZone/current.html
<NEW Students to Durbin Creek Elementary need to complete the Online Registration and supply the required documents. Click on the "Register My Student" bar on the right column to start the form.
<CURRENT SJCSD Students with a Change of Address during the school year fill out the Re-Enrollment / Change of Address form, in the Residency section, to the right.
<PREVIOUS SJCSD Students that have withdrawn from SJCSD and are Re-enrolling fill out the Re-Enrollment / Change of Address form, in the Residency section, to the right.
<VPK is full for the 2022-2023 school year! 2023-2024 lottery is complete and successful families have been notified to complete registration.
Please upload all required documents. Once your registration is submitted, you will not be able to go back and upload more documents. If all necessary documents are not submitted, or they do not meet SJCSD requirements, you will be contacted by email with what is needed. Your registration is NOT complete until ALL documents are received.
A confirmation email will be emailed once your online registration is complete. You do not need to call the school for confirmation.
To aid in your child's placement, please fill out the below Profile form, for your child's grade, and email it to Catherine.Black@stjohns.k12.fl.us or drop it off at the school.
Profile Forms
Rising Fifth Grade Student
Rising Fourth Grade Student
Rising Third Grade Student
Rising Second Grade Student
Rising First Grade Student
Rising Kindergarten Student
 Rising Kindergarten Screening Sign-Up: Coming Soon!
Frequently Asked Questions
¨ Parent Drop-off starts at 8:00am
¨ Class Start-time 8:25am
¨ Parent Pick-up starts
M, Tu, Th, F – 2:45pm, W – 1:45pm
¨ Early Checkout (any reason) must be completed
M, Tu, Th, F – 2:10pm, W – 1:10pm
¨ Dismissal Change must be submitted
M, Tu, Th, F – 2pm, W – 1pm
¨ Absence Notes to teacher, front office or online through our Online Absence Notification link.
¨ Extended Day availability There is currently no availability and the waiting list is full.
¨ After school activities Check the bottom or the Extended Day Website for all available after school activities and their contact information.
*** Check out the Durbin Creek Elementary website frequently, for important updates on upcoming events, orientation dates and new family information. ***
Thank you and welcome to Durbin Creek Elementary!