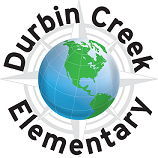 Durbin Creek is the home of the Explorers and we are proud to have planet Earth as our logo. Our vision and mission clearly state who we are and what we are attempting to accomplish with all of our students. As a high technology environment we offer multitudes of opportunities for students to use technology throughout their day in all subject areas. Our resource team is very innovative and includes the following subject areas: physical education, music, art, and media.
Mission Statement
Making positive contributions to society by expanding minds to explore our expanding world.
Vision Statement
Durbin Creek Elementary School will promote a positive educational environment conducive to learning. We will promote respect, caring and a sense of community. Durbin Creek Elementary will develop an atmosphere where students develop a strong desire to learn, excel, and develop excellent character.
Our History
Durbin Creek Elementary was constructed in 2003 but our history goes back to the opening of Fruit Cove School in 2001. We were, at that time, part of the K-8th grade student body. When the new school in which we reside was built, we moved K-4th grade into the building with us. We left behind our 5th graders as we grew too large for our building. The next year, 2004, marked a joyous event as 5th grade returned home to us. Durbin Creek was a prototype school for St. Johns County with a physical environment designed for flexibility of instruction. The county has since constructed more elementary schools like ours. The technology portion of the school includes six student computers per classroom, a ceiling mounted LCD projector in each room, document cameras, audio enhancement, and a full technology learning lab. We are continually maintaining and updating our technology with new software and components that help us uphold our mission statement. The school is designed in houses with each house consisting of eight classrooms. Classroom walls are moveable and each house has its own large common area and two kitchens. Instruction can take place at any time, anywhere and allows for the maximum flexibility for teachers and students.