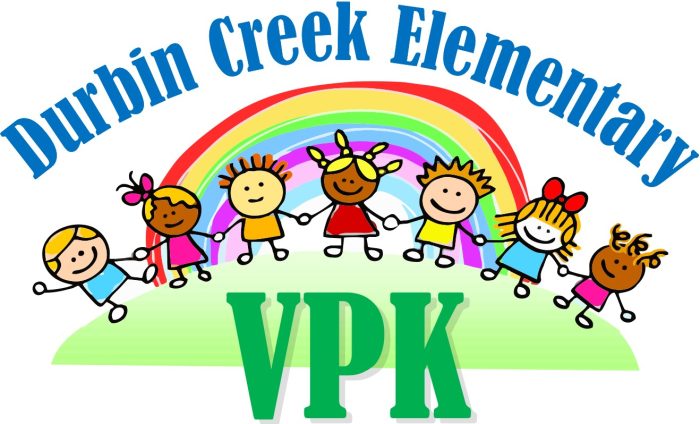 Voluntary Pre-Kindergarten
2023-2024 VPK is full
and not taking applications at this time.
2024-2025 VPK LOTTERY INFORMATION
Durbin Creek Elementary VPK selections are done by a lottery system.
2024-2025 school year VPK Lottery application will be posted here on
January 8, 2024 and accepted
January 8, 2024—January 31, 2024.
NO APPLICATIONS WILL BE ACCEPTED BEFORE JANUARY 8th.
Durbin Creek Elementary's VPK program provides school readiness skills, along with social/emotional development, in an environment that nurtures and encourages a lifelong love of learning. Students are chosen through a lottery system. See below for Lottery details.
The program consists of classes that blend 4 VPK students with up to 14 Pre-K students, ages 3-5, who have a qualified need for services through our ESE program.
Each classroom is headed by a highly qualified teacher with a degree in the areas of early childhood and disabilities, and one paraprofessional.
VPK Program details
o Child must be four years old on or before September 1st.
o 5-days a week, full-day* program, that matches the regular school calendar. 
o Hours are 8:30 am – 2:30 pm M,T,TH,F and W 8:30 am – 1:30 pm.
o Fees* for 2023-2024 are paid monthly. $390 (not free or reduced eligible), $136.50 (reduced eligible), or Free (free eligible). The SJCSD VPK Program consists of the first three hours free with a wrap-around service fee for a full school day .
o Meals are not included, unless your child qualifies for the free/reduced fee. 
To find out if your family is eligible for Free or Reduced Meal status, visit: https://www.stjohns.k12.fl.us/food/free/. The printable application shows the federal eligibility income chart. 
o Transportation and Extended Day are NOT AVAILABLE to VPK students.
* Please note: Durbin Creek Elementary's VPK program is a full day commitment and corresponding fees are required. Price updated on 1/4/2023 for the 2023-2024 school year.
VPK selection is done by a lottery system, with applications accepted in January and final selections taking place early February. All children not selected will be placed on a waitlist. Due to the high volume of lottery applications, it is advised that you make applications at other facilities, as well.
2023-2024 VPK Lottery is complete. ONLY those that were chosen have been notified. all others have been placed on the waiting list and will be contacted if a spot opens up.
SJCSD is a contracted VPK provider. You have a choice in the selection of a VPK program that meets your needs. For other options click here to locate other VPK PROVIDERS or further questions, please contact:
 
Episcopal Children's Services
8443 Baymeadows Rd. Suite 1
Jacksonville, FL 32256
VPK Department
(904)726-1500